ABOUT US

Come on in, the water is just fine. Have the entire family experience a new world of fun with a Prospect Pools Swimming Adventure! Let the water surround you in a splash of fun or heal you while sitting in your Jacuzzi Stairs or Spillover Spa. Float with the warm sun revitalizing your spirit.
Your wish is our command! With a Prospect Swimming Pool anything is possible. Let us build your backyard playground and service you for years to come. With our outstanding Service Department and knowledgeable Retail Store staff all that you'll be missing is your Cabana Boy!

---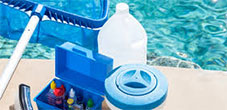 We offer a Retail Store that offers FREE Water Testing. We supply Chemicals, Parts, Filters, Pumps, Heaters, Automated Vacuums, floats, toys and more. Our personnel is extremely knowledgable about pool equipment, and water chemistry with access to a chemist for those pesky water problems. We sell top of the line equipment including Pentair, Jandy, Hayward, Sta-Rite and Goldline.

Our Service Department is bar one of the most knowledgable on various pool systems including automation. They conduct themselves in a professional manner and work with openings, closings, filter and heater repairs, and leak detection.

Our Construction team, with us for over 15 years, is top notch and professional. Your pool or renovation will be completed professionaly, and cleanly, with an average installation taking just a few days.